In February, Christian Siriano debuted his collection for Payless in his Fall '09 show.  The collection was all spikes, reminiscent of the Louboutin for Rodarte shoes, and just plain fab. 
Today,
Racked
leaked some photos of the same Payless collection.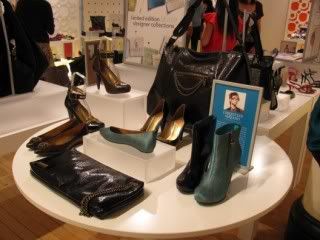 The shoes are so, so toned down from what we saw on the runway.  The heels aren't as high or as spiked, there are way fewer chains, and there are no spikes all over the shoes!  Don't get me wrong, the shoes look cute; but, I was totally looking forward to walking down the street in shoes that could basically maim someone.  So sad . . .
The shoes should hit stores in mid-August, and they all should retail below $45.  Mark your calendars!